COLUMBUS, Ohio (

Aug 10, 2022

) —
With funding from the National Science Foundation, the Ohio Supercomputer Center (OSC) has developed a series of workshops to help cyberinfrastructure professionals gain expertise in burgeoning artificial intelligence (AI) technologies.
More researchers are relying on AI tools such as machine learning or deep learning to explore complex scientific problems, but the professionals who provide support for that work at high performance computing centers may not have the training to adequately help them, said Karen Tomko, OSC director of research software applications.
To address this need, OSC launched the pilot program "AI Bootcamp for Cyberinfrastructure (CI) Professionals" in spring 2022. The free six-week bootcamp, taught by experts from The Ohio State University's Computer Science and Engineering Department, covered topics such as data science, machine learning, neural networks and Bayesian modeling. The instruction featured a mix of lectures, discussions and hands-on activities, with OSC providing computing resources.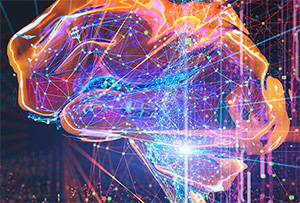 "We need to understand and support AI use cases on our systems," Tomko said. "This bootcamp and other related resources we are developing, such as the Ascend computing cluster, are important for researchers. Nationally there's a big push to grow our AI expertise."
The bootcamp attracted strong interest from cyberinfrastructure professionals at higher education and government research institutions across the county. OSC enrolled 62 professionals from 50 organizations—many of which were research-intensive universities and colleges—from 28 states.
Participants were highly engaged in the sessions, and survey results showed that the bootcamp helped them gain confidence in their AI skills and ability to support researchers, Tomko said. Many participants indicated that they were likely to recommend the bootcamp to other cyberinfrastructure professionals.
"The bootcamp makes me better understand how users are using the AI packages installed on our systems," one participant wrote on the survey. "It also expands my knowledge of how to run and examine parallel and distributed jobs, hardware requirements like memory, GPU, InfiniBand (IB), etc., when supporting AI work. I also got a chance to sharpen my Python programming skills."
The initial bootcamp was a good way for OSC to connect with cyberinfrastructure professionals around the country and gauge interest in topics for instruction, said Katharine Cahill, OSC education and training specialist. OSC solicited detailed feedback from the participants to help refine the workshop curriculum for subsequent cohorts.
"Because we positioned this training as a tool for facilitators to help their clients better, many participants asked for more material directly focused on facilitation examples or strategies for machine learning," Cahill said. "I hope we can incorporate that in the next offering or the next iteration of this event."
OSC will offer a second session of the introductory course as well as an advanced workshop focused on software and data in fall 2022, with the latter program starting Sept. 6.
The bootcamps, which will run through August 2023 with support from the National Science Foundation's Cybertraining program (Award: OAC-2118250), are one of several AI-related initiatives at OSC. This year OSC is launching Ascend, its first computing cluster focused entirely on intensive GPU processing to support AI research and its relevant technologies. The Center also is a member of the Ohio State-led AI Institute for Intelligent Cyberinfrastructure with Computational Learning in the Environment (ICICLE), which is funded by the National Science Foundation.  
By Andrea Gibson
About OSC: The Ohio Supercomputer Center (OSC) addresses the rising computational demands of academic and industrial research communities by providing a robust shared infrastructure and proven expertise in advanced modeling, simulation and analysis. OSC empowers scientists with the services essential to making extraordinary discoveries and innovations, partners with businesses and industry to leverage computational science as a competitive force in the global knowledge economy and leads efforts to equip the workforce with the key technology skills required for 21st century jobs.