COLUMBUS , Ohio (

Aug 10, 2023

) —
Staff at the Ohio Supercomputer Center (OSC) led discussions on national computing and cyberinfrastructure issues at the Practice and Experience in Advanced Research Computing (PEARC) 2023 conference series held July 23-27 in Portland, Oregon.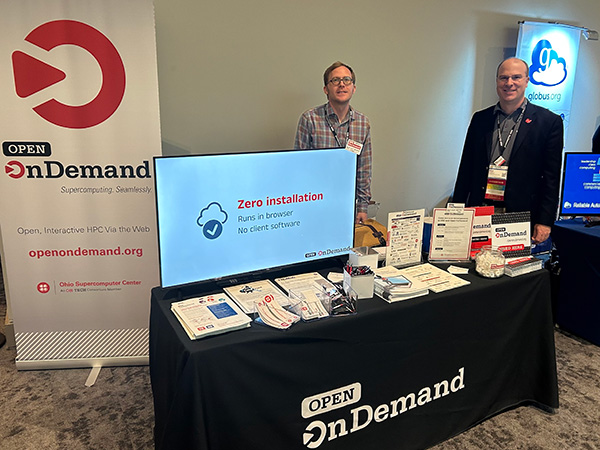 The conference series offers a forum for professionals in academia, government and industry to discuss critical topics in the research computing field. PEARC23 attracted more than 770 registrations and 27 exhibitors.
OSC has been prominently involved in organizing the event, leading workshops and tutorials, participating in panel discussions and presenting papers. In addition, OSC showcases its Open OnDemand high performance computing (HPC) open-source portal at its exhibition booth and holds Open OnDemand advisory board and user group meetings at PEARC.
Alan Chalker, OSC director of strategic programs, is chair of the PEARC steering committee this year and served as general co-chair of the 2022 conference. OSC has prioritized its engagement with PEARC, Chalker said, as the conference serves as an important venue for OSC to track national trends in research computing while sharing its own best practices with other cyberinfrastructure professionals.
"The field of research computing is dynamic and quickly evolving," Chalker said. "PEARC gives OSC an opportunity to learn from our national peers about challenges faced and solutions created that can inform development of our own initiatives that will best serve the OSC client community. In addition, OSC has launched or collaborated on several innovative programs that we think can benefit the professionals attending PEARC."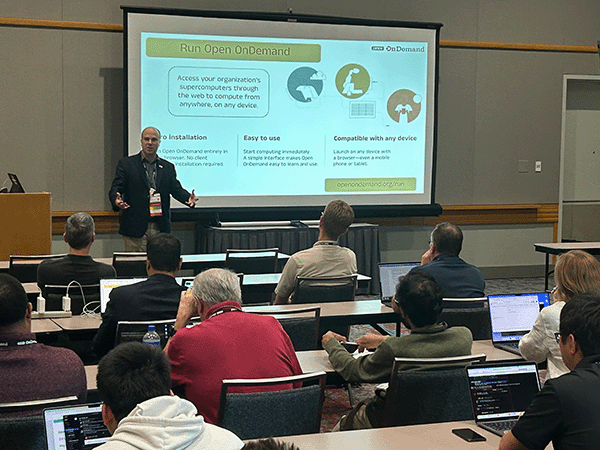 Karen Tomko, OSC director of research software applications, served on a PEARC23 panel discussion about strategies for enhancing HPC training and education. Tomko is the principal investigator for OSC's portion of a new National Science Foundation grant designed to boost the expertise of Ohio cyberinfrastructure professionals in artificial intelligence and machine learning.
Samuel Khuvis, OSC scientific applications engineer, presented the paper "Optimizing Amber for Device-to-Device GPU Communication Accelerating AI/ML Workflows with Intelligence Processing Units (IPUs)."
OSC staff also participated in workshops and discussions about how to utilize ACCESS, an advanced computing and data resource supported by the National Science Foundation.
More information about OSC's involvement in PEARC23 is available on the Center's website.
The Ohio Supercomputer Center (OSC) addresses the rising computational demands of academic and industrial research communities by providing a robust shared infrastructure and proven expertise in advanced modeling, simulation and analysis. OSC empowers scientists with the services essential to making extraordinary discoveries and innovations, partners with businesses and industry to leverage computational science as a competitive force in the global knowledge economy and leads efforts to equip the workforce with the key technology skills required for 21st century jobs.