COLUMBUS, Ohio (

Jan 29, 2016

) —
Leaders from the Ohio Supercomputer Center (OSC) met with five senior members of the Beijing Computing Center (BCC) and Comet Solutions, Inc. at the Ohio Technology Consortium facility Wednesday afternoon to discuss challenges, share history and look to the future of app development at a high-performance computing organization.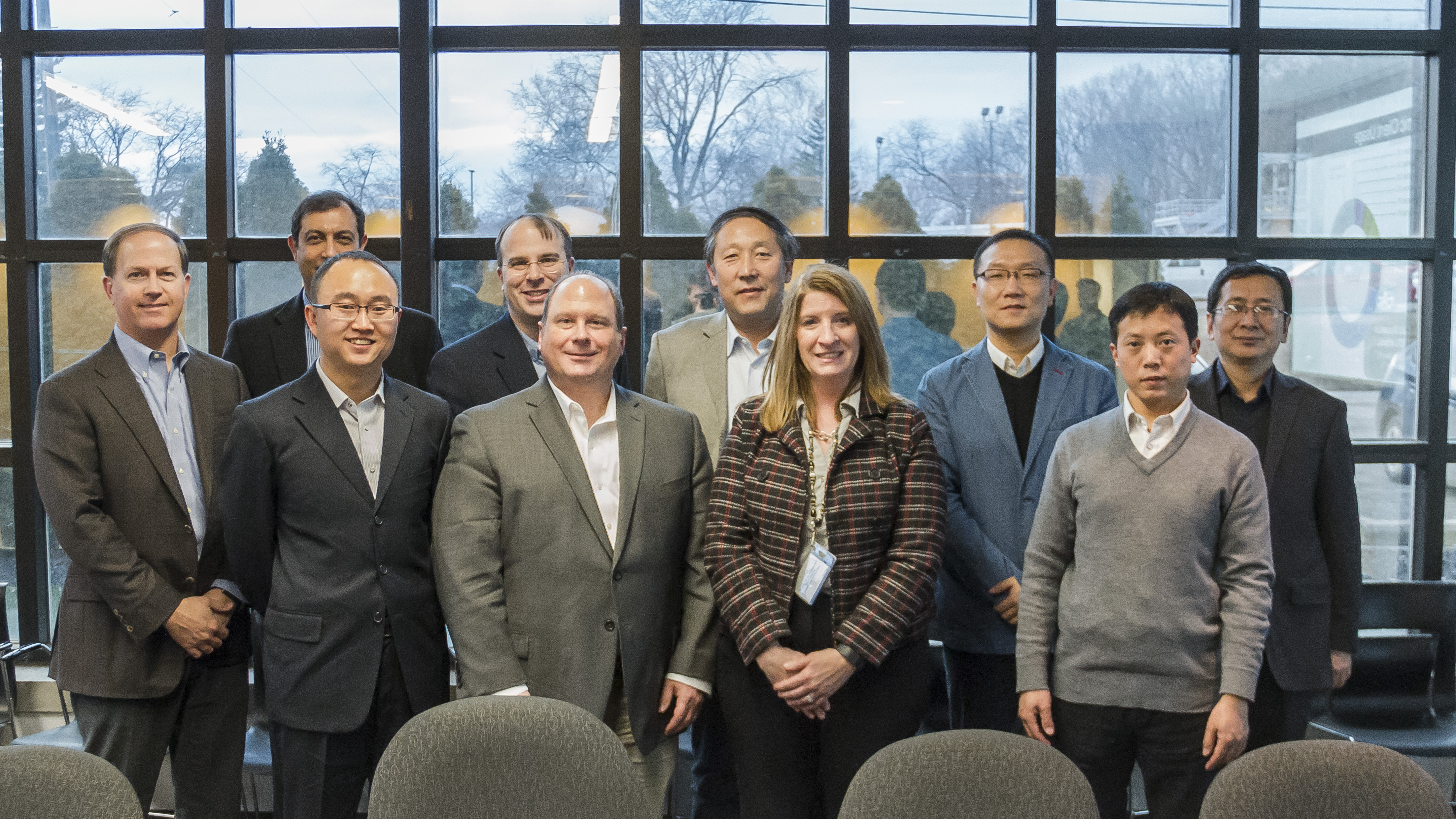 Lynn Trinko, assistant deputy chancellor of educational technology at the Ohio Department of Higher Education, David Hudak, Ph.D., interim executive director of OSC, and Alan Chalker, Ph.D., director of AweSim, met with the BCC group.
The visit was arranged by Comet Solutions, a Cincinnati-based modeling and simulation software development group that works with both OSC and BCC. Comet Solutions' team members present on Wednesday included Daniel Meyer, president and CEO, and Malcolm Panthaki, founder and chief technology officer.
OSC was created in 1987 to address the advanced computing needs of academia and industry, and has fostered relationships with neighboring facilities, national labs and foreign colleagues. The center is a founding member of the International Industrial Supercomputing Workshop (IISW) group, and hosted a meeting of the group in Cleveland last fall. Previous meetings have taken place in Illinois, Korea, Germany, the Netherlands and Japan.
"We have a great interest in working and collaborating with Comet Solutions," Chalker said. "And, because they work jointly with us and the Beijing Computing Center, they saw a lot of parallels with what we're both doing. The BCC group was in Cincinnati meeting a lot of different people and they thought it'd be a great opportunity to get together and discuss what we're both doing."
The BCC, which was started in 1973 and has slightly less than 200 employees, is working with Comet on access to an App Development Platform and the ability to offer numerous other apps, similar to those that serve as the building blocks of AweSim, OSC's web-based industrial engagement program.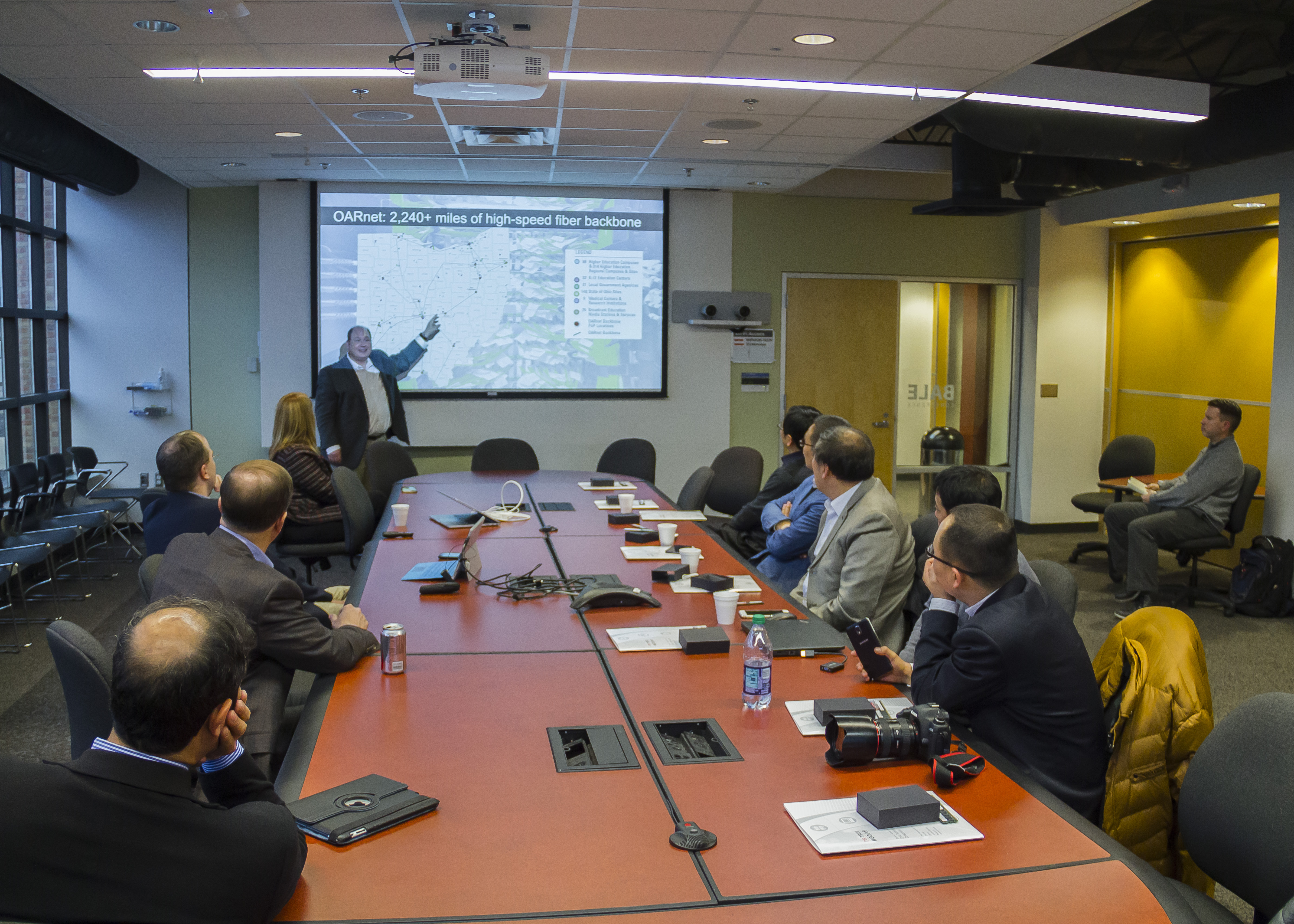 "(BCC) is in the very early stages of developing apps on a comparable platform, and they've already identified some stumbling blocks and hurdles," Chalker said. "I'm not sure that what we've learned translates perfectly to what they're doing, but the bottom line is there are a lot of parallels. We will probably revisit with them in a few years, and it could develop into a nice collaborative relationship."
AweSim is the world's first comprehensive, simulation-driven design solution for small- to medium-sized businesses. AweSim is packing simulation-driven design technology into a series of needs-based manufacturing applications, or "apps," and making them affordable and available with support training to companies.
AweSim was formed through a public-private partnership between OSC and six high-tech companies — P&G, Intel, TotalSim USA, Kinetic Vision, AltaSim Technologies and Nimbis Services — that are sharing their expertise and technology to develop the applications and trainings, and provide development support for AweSim. The State of Ohio's Third Frontier Commission and Development Services Agency are providing grant funding to support the project.
XXX
The Ohio Supercomputer Center (OSC), a member of the Ohio Technology Consortium of the Ohio Department of Higher Education, addresses the rising computational demands of academic and industrial research communities by providing a robust shared infrastructure and proven expertise in advanced modeling, simulation and analysis. OSC empowers scientists with the vital services essential to make extraordinary discoveries and innovations, partners with businesses and industry to leverage computational science as a competitive force in the global knowledge economy, and leads efforts to equip the workforce with the key technology skills required to secure 21st century jobs. For more, visit www.osc.edu.
Comet Solutions provides software and services that simplify the complex process of engineering product systems. The company has developed a suite of powerful and web-deployable SimApps™, which embed expert knowledge and methods, but remove the complexity of general purpose Computer Aided Engineering (CAE) tools. SimApps make simulation-driven design suitable for use by everyone from CAE experts to design engineers.