COLUMBUS, Ohio (

Apr 19, 2019

) —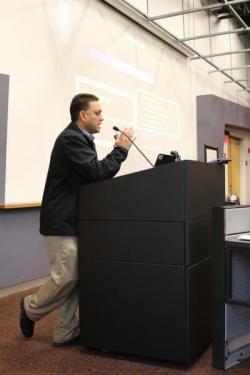 While the impressive breakthroughs from Ohio's leading research universities stem from the brilliant minds of students and faculty, the discoveries are greatly accelerated through the use of high performance computing. Thursday, many of these great minds gathered at the Ohio Supercomputer Center (OSC) for the Statewide Users Group (SUG) spring conference to collaborate and share ideas with peers and OSC staff.
SUG encompasses all OSC clients and receives direction from the SUG executive committee, a volunteer group composed of the Ohio university faculty who provide OSC's leadership with program and policy advice and direction to ensure a productive environment for research.
Thursday's conference featured a keynote address from Santosh Rao, senior technical director at NetApp, a hybrid cloud data services and data management company. Rao is responsible for NetApp's Artificial Intelligence (AI) and data engineering products and solutions business. He works closely with the AI solution ecosystem across GPU, computer, software and channel partners, as well as customers worldwide.
"As NetApp is working across the industry, we are seeing the need for marketable skills that combine data science, algorithms, and the ability to take a fundamental approach around mission-critical skills and building out the ethics, the compliance, and the placeability aspects of the technology," Rao said. "It is a pleasure and privilege to be here today because we can hopefully provide some parts that allow us to influence the program as we go forward, knowing the next five years are going to be fundamental to how the technology rolls. The ability to produce graduates that have those marketable skills is going to be critical for the industry."
Breakout sessions provided the opportunity for OSC's hardware and software committees to meet and share ideas. Other sessions included updates on code optimization, containers, the client portal, and the OSC Campus Champions program.
OSC Executive Director Dave Hudak addressed attendees and provided updates on the center's direction. All the members of the OSC management team presented on client impact, service offerings, system updates and business details. Attendees also had a chance to provide constructive feedback and ask questions with experts in the room.
"The Statewide Users Group meeting is always an exciting opportunity to engage students and faculty," Hudak said. "We learn about the work they do and how OSC services help support their studies. Bringing the community together demonstrates the breadth of work on a range of areas, everything from analyzing hurricane storm surges to designing new materials."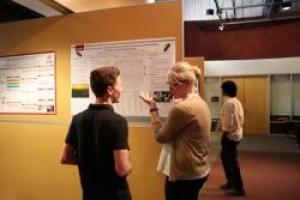 SUG's popular poster and flash talk competitions took place in the afternoon. Participants presented nine flash talks and 17 posters, competing for a first-place prize of 5,000 resource units of time on OSC systems and a second-place prize of 2,500 resource units. All flash talk and poster competitors received 1,000 resource units. 
The flash talks provided SUG students and investigators with a chance to highlight current research that OSC's clients are doing at their home universities. For students, this is an opportunity to practice speaking in front of an audience, as they are judged by their peers and other conference attendees. The Ohio State University's Arif Hossain won the flash talk competition for his presentation titled "Sweeping Jet Film Cooling and Impingement Cooling for Gas Turbine Heat Transfer Application."
Taking the runner-up position, also from Ohio State, was Alexandria Volkening with "Forecasting Elections with Mathematical Models of Contagion Spread."
The poster competitors display their research and results on paper, while attendees have an opportunity to engage them in person about their research. Zhiping Zhong from The Ohio State University won first place with his poster, titled "Viruses Potentially Enhance Hosts Cold- and Salt-Tolerance." Second place went to The Ohio State University's Harper McMinn-Sauder for a poster titled "Measuring Honey Bee Utilization of Conservation Reserve Program (CRP) Pollinator Plantings Using DNA Metabarcoding."
The next SUG conference will take place Thursday, Oct. 17, 2019.
Flash talk participants:
Andrew Chen, The Ohio State University, Predictive Model for Selective Aryl C-H Chlorination
Youssef Golestani, Kent State University, Modeling Liquid Crystal Elastomer Coatings Containing Defects
Arif Hossain, The Ohio State University, Sweeping Jet Film Cooling and Impingement Cooling for Gas Turbine Heat Transfer Application
Younghun Kang, The Ohio State University, Comparison of Two Parametric Wind Models in Storm Surge Simulation 
Sean Marguet, The Ohio State University, Mechanistic Investigations of Hydrogen Evolution by Nickel-Substituted Rubredoxin: Examining the Importance of Secondary Sphere
Rajesh Ranjan, The Ohio State University, Stability Dynamics of Three-Dimensional Cavity Flows Using an Optimally Parallel Analysis Tool
Sharon Scott, The Ohio State University, Use of Computational Simulations to Determine Sorption Mechanisms of Organic Cationic Contaminants in Organic Matter
Vilas Shinde, The Ohio State University, Control of Shock Wave Boundary Layer Interaction Using Surface Morphing
Alexandria Volkening, The Ohio State University, Forecasting Elections with Mathematical Models of Contagion Spread
Poster participants:
Russell Bonneville, The Ohio State University, Characterization of Clonal Evolution in Microsatellite Unstable Metastatic Cancers through Multi-Regional Tumor Sequencing
Andrew Chen, The Ohio State University, Predictive Model for Selective Aryl C-H Chlorination
Masood Delfarah, The Ohio State University, Deep Learning for Reverberant Speaker Separation: An Empirical Study
Julio de Lima Nicolini, The Ohio State University, Model Order Reduction of Electromagnetic Particle-in-Cell Kinetic Plasma Simuations
Omar El-Khoury, The Ohio State University, Storm Surge Simulation due to Hurricane Harvey
Chung Hyun Lee, The Ohio State University, Computational Analysis of Electromagnetic Interactions of Multiple Antennas on the Extremely Large and Multi-scale Objects
Arif Hossain, The Ohio State University, Sweeping Jet Film Cooling and Impingement Cooling for Gas Turbine Heat Transfer Application
Sean Marguet, The Ohio State University, Mechanistic Investigations of Hydrogen Evolution by Nickel-Substituted Rubredoxin: Examining the Importance Of Secondary Sphere
Harper McMinn-Sauder, The Ohio State University, Measuring honey bee utilization of Conservation Reserve Program (CRP) Pollinator Plantings using DNA Metabarcoding
Ola Nosseir, The Ohio State University, Thermodynamic Calculations of Quinone Methide Precursors for the Recovery of Aged Acetylcholinesterase
Sharon Scott, The Ohio State University, Use of Computational Simulations to Determine Sorption Mechanisms of Organic Cationic Contaminants in Organic Matter
Carrie Salmon, The University of Akron, Linear Chlorophosphazenes: a Computational Study
Chanté Vines, The Ohio State University, Evaluating Fugitive Methane Emissions from Hydraulic Fracturing Using an Artificial Neural Network
Dylan Wood, The Ohio State University, A Modeling Framework for Assessing and Communicating Environmental Risks Due to Hurricanes
Yuan Xue, The University of Akron, DFT Calculations on Heterocyclic Substituted Phosphazene Oligomers as Metal Chelators
Zhiping Zhong, The Ohio State University, Viruses Potentially Enhance Hosts Cold- and Salt-Tolerance
Theresa Yazbeck, The Ohio State University, The Effects of Canopy Density and Spacing in Modulating Pollution Deposition Rate