COLUMBUS, Ohio (

Oct 5, 2018

) —
Exciting innovations and new research frontiers are breaking through every day in Ohio, and attendees of the fall Statewide Users Group Conference at the Ohio Supercomputer Center on Thursday got a preview of some innovations to come.
SUG is a volunteer group composed of the Ohio university faculty who provide OSC's leadership with program and policy advice and direction to ensure a productive environment for research.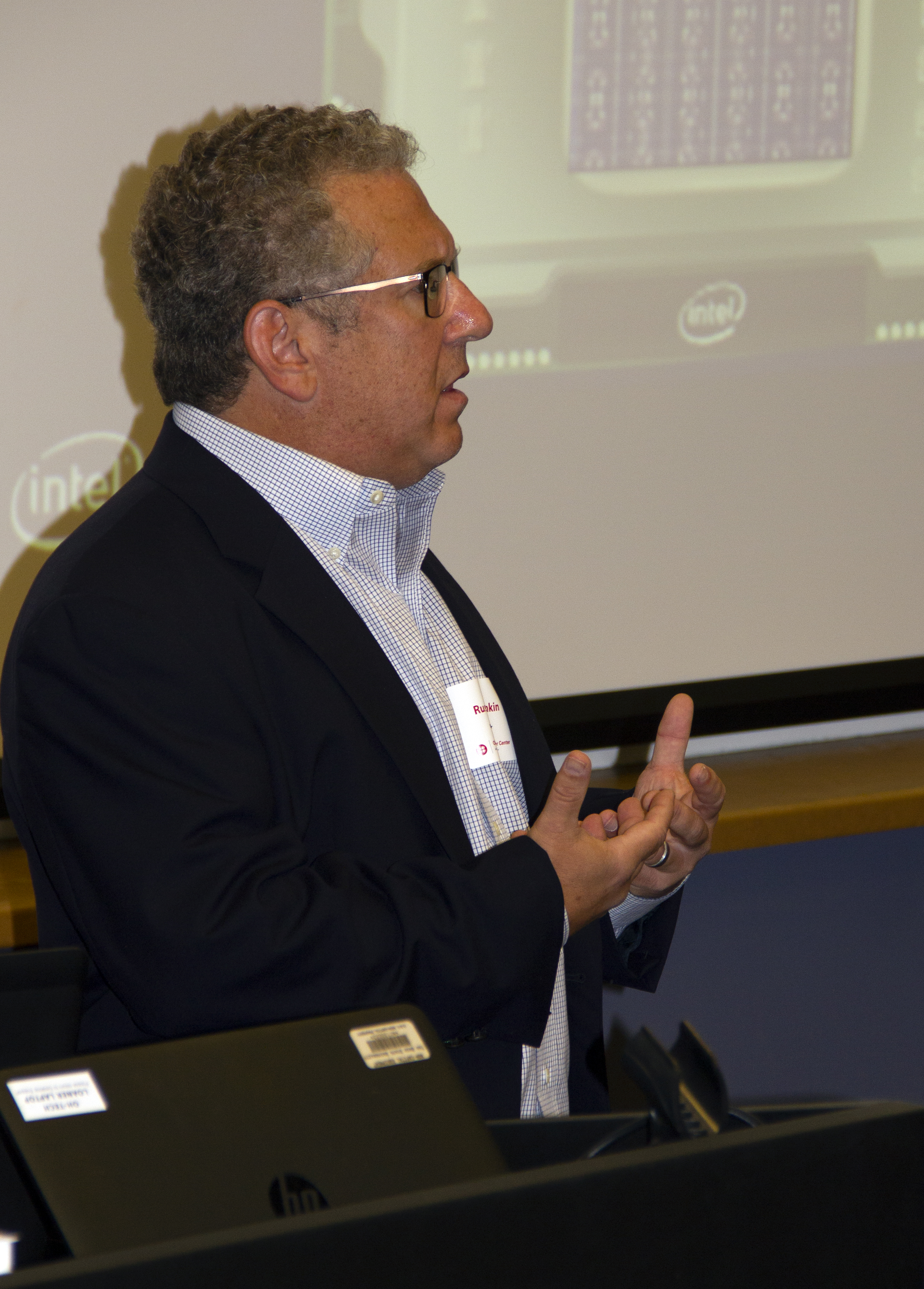 The all-day conference at the Ohio Technology Consortium featured a keynote address from Russ Fromkin, Americas HPC and HPDA sales director for Intel Corporation. Morning breakout sessions allowed for OSC's hardware and software committees to meet and share ideas and also provided attendees with deep-dive discussions the Pitzer Cluster, Data Analytics, the OSC Campus Champions program as well as OSC's new client portal.
OSC staff and directors provided updates on the center's direction as well as a forum for OSC's client base to give constructive feedback. 
"It was another successful SUG meeting. We had a very interesting talk by Russ Fromkin from Intel, and a collection of diverse and fascinating flash talks and posters," said Brian Guilfoos, HPC client services manager at OSC. "I'm delighted to see the meeting continue to be impactful and of interest to clients. It is always valuable for us to see the results of the science our services enable, and I know the staff love to be reminded of what our work helps accomplish."
The conference provided a glimpse into the state of high performance computing at the national level and what it could mean for Ohio's researchers. In his keynote address, Fromkin described how his team is responsible for helping technical computing and data analytics customers implement cutting-edge technologies developed by Intel Corporation. He also described the state of data analytics and where it's headed, with HPC involved.
SUG's popular poster and flash talk competitions were highlights of the afternoon. Participants presented eight flash talks and 24 posters, competing for a first-place prize of 5,000 resource units of time on OSC systems and a second-place prize of 2,500 resource units. All flash talk and poster competitors received 1,000 resource units. 
The flash talks provided SUG students and investigators with a chance to highlight research around the state that OSC's systems enable. The Ohio State University's Dylan Wood won the flash talk competition for his presentation titled "Modeling of Failure Mechanisms for Flood Control Systems in a Hydrodynamic Storm Surge Model." Wood's presentation discussed his team's application of techniques for resolving and assessing the risk of failure for flood defense structures within a large-scale hydrodynamic storm surge model for forecasting risks posed by tropical cyclone impacts. This can help mitigate loss of life and resources during hazardous weather incidents.
Taking the runner-up position, also from Ohio State, was Megan Smith with "Disentangling the Process of Speciation Using Machine Learning." Smith is a member of Bryan Carsten's lab, which frequently sponsors SUG flash talk and poster participants.
The poster competition displayed a wide range of disciplines, including first-place winner Changlong Zou, from The Ohio State University, for his poster titled "Computational Studies of Zeolite Nanosheets as Pervaporation Membranes for Ethanol Extraction." Second place went to The Ohio State University's Heather Hansen for her poster titled "Using the Ohio Supercomputer Cluster to Measure Developmental Changes in Connectivity between the Amygdala Subnuclei and Occipit."
Flash talk participants:
Eun Hyun Cho, The Ohio State University, Molecular model development with accurate charge distributions for gaseous adsorption in porous materials
Jacob Bowman, The Ohio State University, Molecular dynamics and umbrella sampling simulations elucidate differences in troponin C isoform and mutant hydrophobic patch ex
Shiv Subedi, Ohio University, Stellar explosions at OSC
Megan Smith, The Ohio State University, Disentangling the process of speciation using machine learning
Lei Yu, The Ohio State University, Optimized molecular mechanics protein potential improves dynamics of intrinsically disordered proteins
Dylan Wood, The Ohio State University, Modeling of failure mechanisms for flood control systems in a hydrodynamic storm surge model
Drew Duckett, The Ohio State University, Genomic signatures of convergent adaptation in semiaquatic mammals
Navni Verma, The Ohio State University, Computational modeling of cooldown of an engine mount
 
Poster participants:
Ali Aldhumani, Ohio University, Chemoinformatic analysis of a target RNA element
Dulci Avouris, Kent State University, NASA airborne hyperspectral image analysis: the 2016 Lake Erie CyanoHAB
Neeman Alisa, Muskingum University, Convolutional neural networks and deep learning to detect mineral crystal system
Julio de Lima Nicolini, The Ohio State University, Recent results on finite-element-based particle-in-cell methods for kinetic plasma simulations
Binbin Wang, The Ohio State University, Deconvolution of complex scattering in atomic resolution spectroscopic images using multi-slice simulations
Xuepeng Deng, The Ohio State University, Molecular simulations of polymer membranes: effects of water
Rosario Distefano, The Ohio State University, Systematic analysis of function and regulation of microRNA isoforms in Cancer
Xuyao Gao, The Ohio State University, Application of finite volume method in simulating erythrocytes separation
Samira Gholami, Bowling Green State University, Two photon absorbtion of bovine rhodopsin
Heather Hansen, The Ohio State University, Using the Ohio Supercomputer cluster to measure developmental changes in connectivity between the amygdala subnuclei and occipit
Kamalnath Kadirvel, The Ohio State University, Phase field modelling of transformation pathway in HEA
Athena Howell, The Ohio State University, Studying infant hippocampal connectivity with the OSC
Joseph Lanier,  Xavier University Department of Physics, Early results of Monte-Carlo simulations for NaxCoO2
Peidong Wang, The Ohio State University, Filter-and-Convolve: A CNN-based multichannel complex concatenation acoustic model
Jin Li, The Ohio State University, Connectivity patterns between language and visual systems in neonatal and adults brain
Jayavardhan Reddy Peddamail, The Ohio State University, A comprehensive study of StaQC for deep code Summarization
Carver Nabb, The Ohio State University, Predicting reading ability based on anatomical and functional neural connectivity
Yaxian Wang, The Ohio State University, Goniopolarity: Axis-dependent conduction polarity in layered materials
Ola Nosseir, The Ohio State University, Quantum mechanical calculations toward the discovery of therapeutics for organophosphorus poisoning
Theresia Yazbeck, The Ohio State University, Large eddy simulations of sustainable greenbelts in industrial complexes
Felipe Fabricio Pacci Evaristo, The Ohio State University, Use of computational tools in the search for the next generation of materials for regenerative medicine applications
Lianshui Zhao, The Ohio State University, Large-scale computation for plasma opacities
Micah Rhodes, The Ohio State University, Exploring the development of high-level visual connectivity in infants on the Ohio Supercomputer Center cluster
Changlong Zou, The Ohio State University, Computational studies of zeolite nanosheets as pervaporation membranes for ethanol extraction