Columbus, Ohio (Aug. 24, 2017) – Sultana Nahar, Ph.D. wants more scientific advances and discoveries, and she wants them now.
Her strategy? Teaching research-based courses.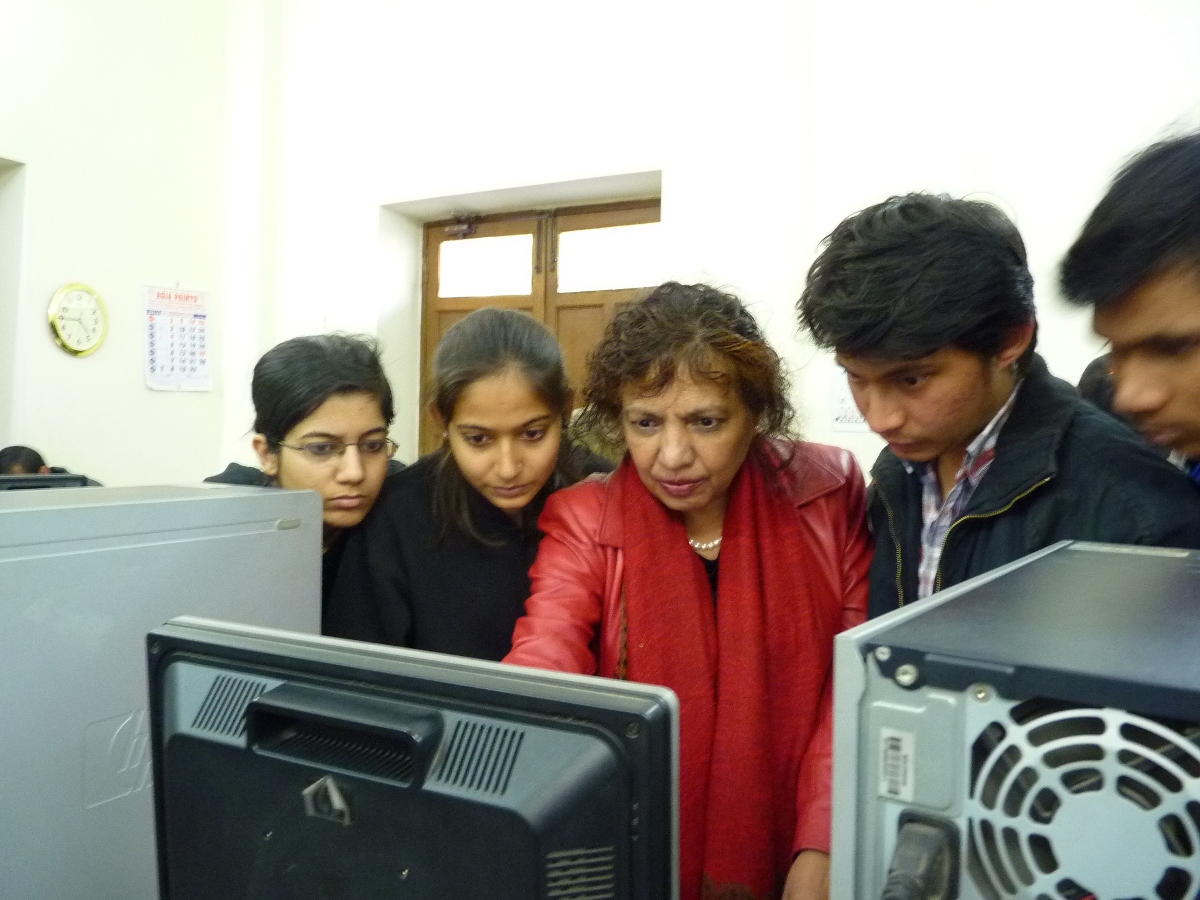 Through physics and STEM courses and workshops, Nahar has been improving the computational skills of the scientific community one person at a time with the hope that more breakthroughs will be made.
"We can solve more problems in science, we just need manpower," said Nahar, a senior research professor in Ohio State's Department of Astronomy. "Through these workshops, we can achieve our goals faster." 
Supercomputing services through the Ohio Supercomputer Center help Nahar conduct computational workshops as part of her lecture courses. These workshops train participants to use computer programs for research projects.
As a longtime OSC client since accepting a post-doctoral fellowship position at Ohio State in 1990, Nahar knows the importance of high performance computing for her own research. Nahar has used OSC for large-scale, high-accuracy computations for atomic processes under the international collaborations of the Opacity Project and the IRON Project. These projects aim to solve long-standing astrophysical problems and have earned her the nickname  "Iron Lady" for her extensive work on complex iron ions in space.
The value of having OSC support her is especially vital to Nahar's efforts to educate students and researchers in underdeveloped countries.
Nahar has been teaching courses and conducting workshops for students and faculty members in countries such as Bangladesh, Egypt, and India — drawing students from many universities in each country — to expand and grow international diversity for science engineering students and post-doctoral researchers.
 "This is of great importance; without the workshops, it is very difficult for these students to learn codes and understand the programs for their research," she said. "They're very smart, as smart as any students in developed countries. They just need resources."
In the mid-1990s, Nahar started an outreach program to help improve the quality of education and research in underserved areas and to encourage international involvement of scientists in developing countries, such as her home country of Bangladesh. The outreach programs evolved when she began doing physics workshops with programs installed at OSC through emails for researchers in Bangladesh, Egypt, India, Iran, Iraq, and Turkey.
In 2013, Nahar traveled to Cairo University in Egypt for her first on-site workshop, thanks to an agreement between The Ohio State University and Cairo University. Nahar initiated and coordinated the arrangement years ago as part of her mentoring efforts; it covers the College of Arts and Sciences and the College of Engineering.
That initial atomic astrophysics course, which included the computation workshop, was a tremendous success.
"We had students, researchers, faculty members from seven organizations," Nahar said. "We met three times a week and some would travel more than an hour to attend the two-hour-long classes and workshops," Nahar said. "They were very interested in the workshops for two reasons: One, my topics are interesting and are research based; and two, the supercomputer center is a highly sophisticated facility they can use."
Certificates for the course were given out by the Dean of Faculty of Science in a ceremony held in special Ibn Sina Hall, and Nahar received the "Shield of Faculty of Science" with appreciation. She has continued delivering the computational-based course at Cairo University with attendants from multiple institutions. Professor Ola Hassouneh of the University of Jordan in Amman registered for the course in 2016 mainly for the computational workshop for her research, although she ultimately  could not get the approval to leave her teaching duty.
In the years since the STEM workshops started, Nahar  has taught at the universities of Delhi, Kashmir, and King Saud in Riyadh. This past spring, Nahar delivered her third STEM workshop on atomic astrophysics with computational workshops in Aligarh Muslim University in India, with which Ohio State has an MOA. Members from chemistry, computer science, and engineering join those from physics. Researchers in other universities are interested in the course. Nahar will be giving the course at three universities in Bangladesh in 2017.
Using OSC's resources and Nahar's training, those students—were able to submit papers, much as they do today.
The course involved lectures and learning to use programs such as the R-matrix package of codes on atomic structure and processes that run on the OSC clusters. As with past workshops, these help the students gain experience as they try to attain their doctorates.
"One of the most important parts of STEM education and research is computation of parameters for solving real problems," Nahar said. "It's not easy to calculate and we need very high accuracy in our results, that can only be achieved through precise computations with high performance computer facilities.
 "Without OSC, I could not run this program, and they could not learn."
###
Written by Ross Bishoff
The Ohio Supercomputer Center (OSC), a member of the Ohio Technology Consortium of the Ohio Department of Higher Education, addresses the expanding computational demands of academic and industrial research communities by providing a robust shared infrastructure and proven expertise in advanced modeling, simulation and analysis. OSC empowers researchers with the vital services essential to make extraordinary discoveries and innovations, partners with businesses and industry to leverage computational science as a competitive force in the global knowledge economy, and leads efforts to equip the workforce with the key technology skills required to secure 21st century jobs. For more, visit www.osc.edu(link sends e-mail).