Director of Supercomputer Services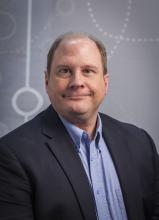 David E. Hudak, Ph.D., is the Director of Supercomputer Services at the Ohio Supercomputer Center (OSC), where he was previously Program Director for Cyberinfrastructure and Software Development. His research interests include high-level languages for parallel computing, HPC software engineering and network protocol design.
Prior to his appointment at OSC, Hudak served as Associate Professor of Computer Science and Engineering at Ohio Northern University from 1992-2000 and as Chairman of the Department of Computer Science from 1998-2000. He was named to the Reichelderfer endowed chair in Computer Science at Ohio Northern. Hudak has consulted with the Computational Fluid-Dynamics Laboratory at Wright-Patterson Air Force Base and has served as Chairman of the Parallel Computing Curricula for Ohio College Educators group.
Hudak earned a bachelor's degree in mathematics from Bowling Green State University and holds an master's and doctoral degrees in Computer Engineering from the University of Michigan.
Areas of Expertise
Cyberinfrastructure
Software development
Web portals
Organization:
Ohio Supercomputer Center
Address:
Ohio Supercomputer Center (OSC), 1224 Kinnear Road, Columbus, OH 43212