Date:
Thursday, September 28, 2017 -

8:00am

to

5:00pm
Location:
1224 Kinnear Rd. Columbus, OH 43212
Registration at the bottom of this page.
The purposes of the SUG Conference are to:
foster connections
update OSC's user base on the Center's direction
highlight new scientific developments produced using OSC resources
obtain constructive feedback as to the future of OSC and our role in supporting science across Ohio
 
We will host a keynote address within an area of interest to OSC clients. Free lunch and afternoon appetizers will be provided. After the SUG conference, we will reconvene in one of the active social neighborhoods of Columbus for drinks, dinner and networking (not sponsored by OSC). In order to enable interactions between the current/potential OSC clients and OSC staff, our staff will be present to answer questions throughout the day. 
As a reminder, the day before the conference, our Software committee would like to welcome all of our users to their meetings. 
 
Directions and Hotel Information

Questions? Please contact OSC Help.
September Information and Deadlines

Agenda - Tentative
 
Poster and Flash Talk Registration: Thursday, August 31st
Notifcation of Poster/Flash Talk acceptance: Thursday, September 7th 
Registration Deadline: Thursday, September 14th
Poster Judge Confirmation: Thursday, September 21st
Poster/Flash Talk File Submission: Thursday, September 21st
Flash Talk & Poster Competition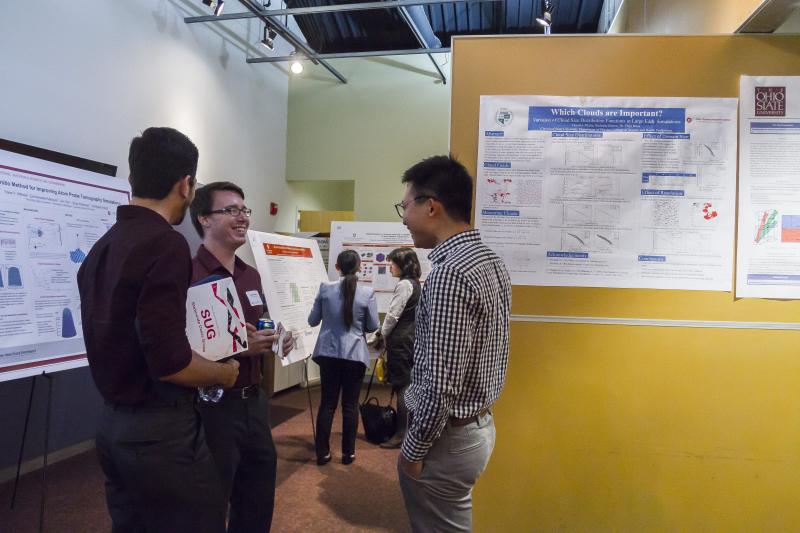 We will have a flash talk and poster session to highlight the research and emerging ideas from OSC clients. Talks and posters will be selected from abstracts submitted via the registration form. We will contact you to nofity you of your flash talk or poster acceptance. At that time, a link will be provided for you to upload your flash talk file or poster file for printing. NOTE: OSC offers to print out posters free of charge. 
Presented flash talks and posters will be awarded 1,000 RUs on OSC systems. 
Flash talks and posters will be judged; only students (at any level) will be considered for first and second place awards.

Typically, the first-place talk and poster will each receive a grant of 5,000 RUs and be highlighted in OSC's annual Research Report. The second-place talk and poster will each receive a grant of 2,500 RUs.
Posters will be judged by volunteers from outside academic institutions and OSC. 
Flash talks will be judged by the audience and a set of OSC staff.

First and second-place posters will be displayed to the public in the hallways of OSC if the presenter so wishes.
The posters should be 32" tall and 45" wide.
We encourage posters by students just starting their work, to show creative ideas on how high performance computing will enhance their research. 
To learn how these competitions will be scored, please see below. 
Judging
All feedback from the poster and flash talk sessions will be sent to the presenter. We ensure that there is no identifying information submitted with the feedback.
Poster judges come from a variety of backgrounds, disciplines, and institutions. In order to volunteer as a poster judge, you must not be a participant in the competition. If you are eligible, this will appear as a question upon registration. Alternatively, please contact OSC Help.
Flash talks will be judged by two OSC staff members and the audience. We trust that participants will not judge their own presentation, as this is anonymous. 
 
We will have WebEx streams of the conference if you cannot attend!