COLUMBUS, Ohio (

Apr 4, 2022

) —
The Ohio Supercomputer Center (OSC) 2021 Research Report is now available online. The publication spotlights news from OSC and highlights the research and education enabled by Ohio's statewide high performance computing resource.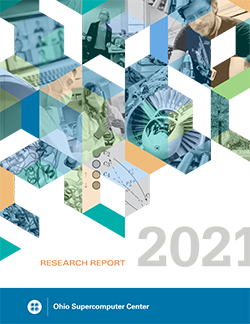 The Research Report features stories about researchers who use OSC, as well as OSC's continued efforts to adapt and upgrade its products and services to meet client needs during the pandemic. Highlights include the growth of the Campus Champions program, redevelopment of the biannual Statewide Users Group, OSC's collaboration in a new artificial intelligence research initiative, and the expansion of data storage capacity. These initiatives are designed to support and enhance the communities served by OSC.
"Our clients hail from across Ohio's diverse and thriving research and innovation ecosystem and present us with a fascinating range of high performance computing (HPC), data storage and support needs," said OSC Executive Director Dave Hudak. "To meet these demands, our machines are tooled with a broader range of capabilities than comparable academic supercomputer centers; our data storage is secure, reliable and backed up; and our software applications and client support teams are cross-trained, qualified and capable of helping in any situation."
Read the 2021 Research Report online
Research conducted at OSC covers a wide range of disciplines, from architecture to chemistry, from academic research to commercial engineering. The Research Report's featured case studies demonstrate OSC's impact on research and teaching in Ohio and around the world. Examples include:
Stories
Work utilizing OSC has resulted in more than 1,167 citations from 2016 to 2020 in peer-reviewed publications across dozens of scientific fields, similar to leading academic computing centers worldwide.
"Researchers and innovators across the state in academic, commercial and nonprofit fields are blazing a trail to a better and stronger Ohio thanks to the Ohio Supercomputer Center," said Randy Gardner, chancellor of the Ohio Department of Higher Education. "The OSC's advanced research and groundbreaking discoveries are helping prepare the high-tech workforce of tomorrow."
About OSC: The Ohio Supercomputer Center (OSC) addresses the rising computational demands of academic and industrial research communities by providing a robust shared infrastructure and proven expertise in advanced modeling, simulation and analysis. OSC empowers scientists with the services essential to making extraordinary discoveries and innovations, partners with businesses and industry to leverage computational science as a competitive force in the global knowledge economy and leads efforts to equip the workforce with the key technology skills required for 21st century jobs.