COLUMBUS, Ohio (

Jun 20, 2016

) —
Sixteen Ohio high school students are spending two weeks of their summer break investigating complex science and engineering problems, while discovering career opportunities in science, technology, engineering and mathematics (STEM) fields.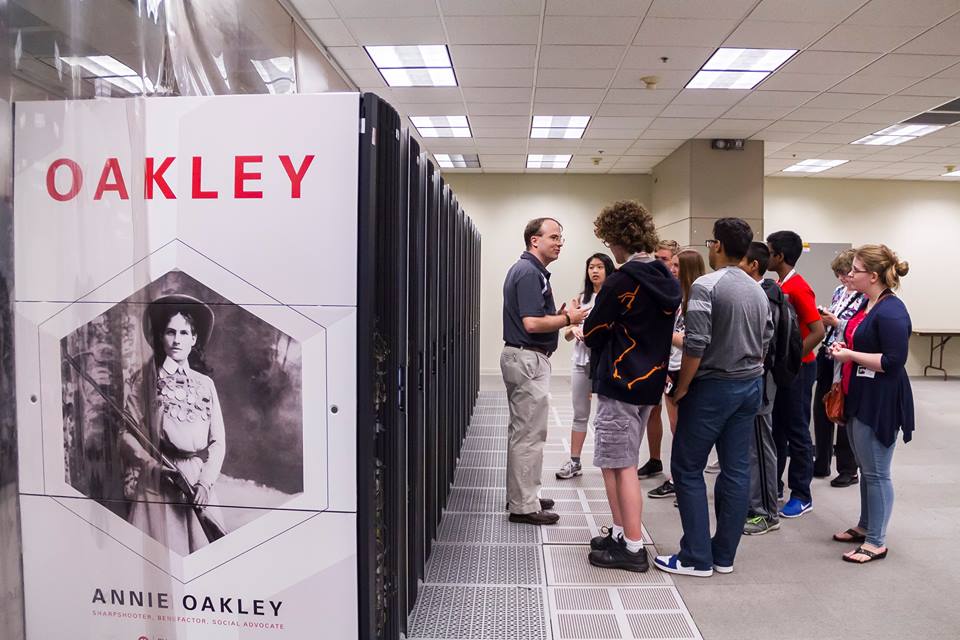 The students are attending the Ohio Supercomputer Center's(link sends e-mail) 27th annual Summer Institute(link sends e-mail) from June 12-24 on the campus of The Ohio State University. Ohio Supercomputer Center staff members established Summer Institute (SI) in 1990 to provide high school students with real-world experience in the fields of high performance computing (HPC) and networking. While working in small groups, students apply the scientific method to their studies and solve complex problems using various OSC resources. 
OSC also invites experts from science, engineering, HPC and networking fields to speak with the students about STEM topics and careers, giving students an "insider's" perspective into these fields.
"Summer Institute provides students with a better understanding of what scientists and engineers do," said Brian Guilfoos, SI director and HPC Client Services manager at OSC. "SI has continually given students real-world knowledge and experience that they use for the rest of their lives."
SI students are taking field trips focused on science and engineering, as well as completing their group projects, such as modeling physics in computer games, detecting dark matter, protein modeling and drug dispersion. The students also are getting a behind-the-scenes view of Ohio State's campus and a taste of campus life by living in dorms throughout the two-week camp.
Birce Onal, an SI Residential Adviser and Career Panelist, has witnessed the benefits of SI for its students. By the end of the program, "the campers have all had a chance to talk with women and men who got their degrees in physics, computer science, statistics, mathematics and engineering," said Onal, a graduate research associate at Ohio State's College of Engineering. "Usually the students take the opportunity to ask for advice on school, courses to take and applying to college."
OSC provides additional education programs for STEM enrichment through the Young Women's Summer Institute(link sends e-mail), designed for middle school-aged girls to engage in scientific research while working with some of the nation's best computer technologies. OSC also provides numerous internships for Columbus Metro High School and college students.
###
EDITORS: See next page for student names and hometowns.
For photographs, see facebook.com/oscsi(link sends e-mail)
The following list identifies the students participating in SI 2016. The list is arranged alphabetically by last name and identifies each student's hometown.
Krysta-Marie Aulak, Shaker Heights (Shaker Heights High School)
Suyash Dixit, Lewis Center (Olentangy High School)
Jayanth Gunda, Dublin (Dublin Jerome High School)
Alexander He, Lewis Center (Olentangy Orange High School)
Evan Heritage, Toledo (Maumee Valley Country Day School)
Evan Hunsicker, Marion (Ridgedale High School)
Willem Kennedy, Upper Arlington (Upper Arlington High School)
Michael Lin, Dublin (Dublin Jerome High School)
Alice Lo, Westerville (Metro Early College High School)
Alison Maniace, Columbus (Columbus School for Girls)
Emily Mason, Chagrin Falls (Chagrin Falls High School)
Arefa Motiwala, New Albany (Gahanna Lincoln High School)
Krishna Revur, Hillard (Hillard Darby High School)
Andrew Saladino, Newark (Newark High School)
Manas Srinivasaiah, Lewis Center (Western Reserve Academy)
Akhil Vyas, Dublin (Dublin Jerome High School)
The Ohio Supercomputer Center (OSC), a member of the Ohio Technology Consortium of the Ohio Department of Higher Education, addresses the expanding computational demands of academic and industrial research communities by providing a robust shared infrastructure and proven expertise in advanced modeling, simulation and analysis. OSC empowers researchers with the vital services essential to make extraordinary discoveries and innovations, partners with businesses and industry to leverage computational science as a competitive force in the global knowledge economy, and leads efforts to equip the workforce with the key technology skills required to secure 21st century jobs. For more, visitwww.osc.edu(link sends e-mail).