COLUMBUS, Ohio (

Oct 23, 2020

) —
The Ohio Supercomputer Center (OSC) hosted the Statewide Users Group (SUG) conference virtually on Thursday, adapting the biannual conference to an online environment after the spring edition of the event was cancelled due to the coronavirus. The Zoom gathering consisted of committee meetings, a keynote address, updates from OSC and breakout meetings.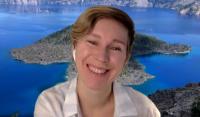 Cerebras Systems' Senior Technical Product Manager Natalia Vassilieva, PhD, delivered the keynote address, discussing Neocortex, a supercomputer featuring new hardware to amplify artificial intelligence (AI) research. Funded by a National Science Foundation (NSF) grant and built in partnership with the Pittsburgh Supercomputing Center (PSC), Cerebras Systems and Hewlett Packard Enterprise (HPE), the system will feature brand-new Wafer Scale Engine (WSE) processors. Vassilieva's insight into this new configuration provided OSC users an exciting glimpse into where supercomputing may be heading next.
After a short break, Director of Strategic Programs Alan Chalker, PhD, walked guests through updates and announcements from the Center. Topics included the Center's response to the COVID-19 pandemic and the provisioning of extra resources for researchers, new disk storage, the expansion of the Pitzer Cluster and updates to OSC services and budgets.
The conference concluded with breakout sessions in which participants could choose to learn about OSC use in the classroom, the Pitzer expansion or high performance computing (HPC) containers.
"One of the things we most look forward to throughout the year is the ability to come together with OSC users and researchers and hear about their work and have the opportunity to inform them about the Center's updates and direction," Chalker said. "While COVID-19 pushed us to a virtual environment, we were thrilled to see the turnout and look forward to when we can all meet in person again."
Stay tuned for more information regarding the next SUG conference in Spring 2021.