COLUMBUS, Ohio (

Apr 10, 2023

) —
The Ohio Supercomputer Center (OSC) 2022 Research Report is now available online. The publication highlights how the Center is serving the needs of the state and national high performance computing (HPC) community with new and expanded resources and services.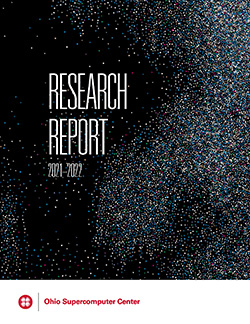 The report spotlights the launch of Ascend, OSC's first computing cluster devoted entirely to intensive graphics processing unit (GPU) work; the Center's development of artificial intelligence "bootcamps" for cyberinfrastructure professionals; OSC's involvement in the National Science Foundation-funded ACCESS program to enhance cyberinfrastructure support services; efforts to bolster data archive and disaster recovery offerings; and OSC's long relationship with Intel, which is constructing one of the world's largest microchip manufacturing complexes in central Ohio.
"With the new computing cluster Ascend and enhanced storage and backup services, the Ohio Supercomputer Center is well positioned to serve the needs of its academic, commercial and nonprofit clients and support workforce development initiatives such as Intel's manufacturing endeavors in the state," said Randy Gardner, the chancellor of the Ohio Department of Higher Education, which oversees OSC through its Ohio Technology Consortium.
Read the 2022 Research Report online
Research conducted at OSC covers a wide range of academic disciplines, from computer science to chemistry. Commercial clients also employ the Center's HPC power for projects such as product design and drug development. The Research Report's featured case studies demonstrate OSC's broad impact on research and commercial innovation. Examples include:
"Researchers and innovators across the state and nation—from small companies to public and private universities—are continuing to make great discoveries and product developments with the aid of OSC's supercomputing resources," said Dave Hudak, OSC executive director.
The Research Report also highlights how new and current clients can utilize OSC's many resources, services, events, workshops and opportunities to engage with Center staff and fellow members of the HPC community.
About OSC: The Ohio Supercomputer Center (OSC) addresses the rising computational demands of academic and industrial research communities by providing a robust shared infrastructure and proven expertise in advanced modeling, simulation and analysis. OSC empowers scientists with the services essential to making extraordinary discoveries and innovations, partners with businesses and industry to leverage computational science as a competitive force in the global knowledge economy and leads efforts to equip the workforce with the key technology skills required for 21st century jobs.