Ruby is unavailable for general access.
TIP: Remember to check the menu to the right of the page for related pages with more information about Ruby's specifics.
Ruby, named after the Ohio native actress Ruby Dee, is The Ohio Supercomputer Center's newest cluster.  An HP built, Intel® Xeon® processor-based supercomputer, Ruby provides almost the same amount of total computing power (~144 TF) as our former flagship system Oakley on less than half the number of nodes (240 nodes).  Ruby also features two distinct sets of hardware accelerators; 20 nodes are outfitted with NVIDIA® Tesla K40 and another 20 nodes feature Intel® Xeon® Phi coprocessors.

Hardware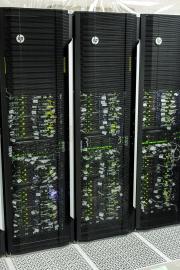 Detailed system specifications:
4800 total cores

20 cores/node  & 64 gigabytes of memory/node

Intel Xeon E5 2670 V2 (Ivy Bridge) CPUs
HP SL250 Nodes
20 Intel Xeon Phi 5110p coprocessors
20 NVIDIA Tesla K40 GPUs
1 TB of local disk space in '/tmp'
FDR IB Interconnect

Low latency
High throughput
High quality-of-service.

Theoretical system peak performance
NVIDIA GPU performance

28.6 additional teraflops

Intel Xeon Phi performance
Total peak performance
Ruby has one huge memory node.
32 cores (Intel Xeon E5 4640 CPUs)
1 TB of memory
483 GB of local disk space in '/tmp'
Ruby is configured with two login nodes.
Intel Xeon E5-2670 (Sandy Bridge) CPUs

16 cores/node & 128 gigabytes of memory/node
Connecting
To login to Ruby at OSC, ssh to the following hostname:

         ruby.osc.edu 

You can either use an ssh client application or execute ssh on the command line in a terminal window as follows:

         ssh <username>@ruby.osc.edu

From there, you have access to the compilers and other software development tools. You can run programs interactively or through batch requests. See the following sections for details.
File Systems
Ruby accesses the same OSC mass storage environment as our other clusters. Therefore, users have the same home directory as on the Oakley and Glenn clusters. Full details of the storage environment are available in our storage environment guide.
Software Environment
The module system on Ruby is the same as on the Oakley system. Use module load <package> to add a software package to your environment. Use module list to see what modules are currently loaded and module avail to see the module that are available to load. To search for modules that may not be visible due to dependencies or conflicts, use module spider. By default, you will have the batch scheduling software modules, the Intel compiler and an appropriate version of mvapich2 loaded.
You can keep up to on the software packages that have been made available on Ruby by viewing the Software by System page and selecting the Ruby system.
Understanding the Xeon Phi
Guidance on what the Phis are, how they can be utilized, and other general information can be found on our Ruby Phi FAQ.
Compiling for the Xeon
Phis
For information on compiling for and running software on our Phi coprocessors, see our Phi Compiling Guide.
Using OSC Resources
For more information about how to use OSC resources, please see our guide on batch processing at OSC. For specific information about modules and file storage, please see the Batch Execution Environment page.