Globus is a reliable, high-performance file transfer platform allowing users to transfer large amounts of data seamlessly between systems. It aims to make transfers a "click-and-forget" process by setting up configuration details in the background and automating fault recovery.  
Globus can be used for both file transfers between OSC and:
A computing institution with Globus installed (check with your site provider for availability) or
A personal computer (known as a personal endpoint). See this page on how to install Globus Connect Personal
Users transferring between OSC and another computing institution with​ Globus installed do not need to install Globus Connect Personal.
If you are looking to transfer smaller sized files you can utilize 
OnDemand's file transfer capabilities
, or 
use an SFTP client to connect
 to 
sftp.osc.edu
. Our general recommendation is that for small files - measured in MB to several hundred MB - to use OnDemand or SFTP. You can continue to use SFTP and get reasonable performance up to file sizes of several GB. For transfers of several GB or larger, you should consider using Globus.
Transfer files using Globus
We provide instructions on how to transfer data on this page. If you would like to share your data with your collaborators, please see this page. 
If you are doing a large transfer you should transfer to/from the parallel file system for best performance. 
Watch How to Transfer Files Using Globus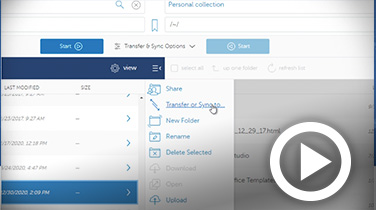 Login to Globus. If your institution does not have an organizational login, you may choose to either Sign in with Google or Sign in with ORCiD iD.

 If you do not log in with your OSC HPC credentials, map your OSC credentials to your Globus account following this page. Select 'Ohio Supercomputer Center (OSC)' as the identity provider. You will be redirected to the page below. Provide your OSC HPC credentials: 

Navigate to the "File Manager" on the sidebar. Select the two-panel view by switching the icon beside "Panels" on the top-right of the page if the view is one panel
Enter your endpoint in one of the collections

If transferring to a computer with Globus Connect Personal installed, make sure to have Globus Connect Personal running. The name will be the unique name chosen during installation. It is also listed under "Administered by You" under the "ENDPOINTS" on the sidebar

Enter 'OSC Globus Connect Server' in the other collection box to search all the collections managed by OSC as below. Choose the collection where you want to do the data transfer:

|   | Endpoint |
| --- | --- |
| OSC's home directory | OSC $HOME |
| OSC's project directory | OSC /fs/project |
| OSC's scratch directory | OSC /fs/scratch |
| OSC's ess storage | OSC /fs/ess |
| AWS S3 storage | OSC S3 |

If needed, enter your username and password for the authentication
You should see the files in the collection. You can also change the directory by entering the appropriate path in the Path box

You can now transfer files and directories both ways by selecting them and pressing the arrow indicating which way you'd like to transfer
Once you click 'Start', an activity report will appear as shown below, and you can click on it to see the details
Click "View details', you will get the activity report about the transfer. You will also receive an email once the transfer is completed (successful or failed)
Once a transfer has begun, you do not need to keep the Globus webpage up, but you will need to make sure the Globus Connect Personal Client is running on your computer until it has completed.  If the transfer is interrupted for any reason, Globus will attempt to re-initiate the transfer automatically.